Various commercial sectors and local and federal government agencies are increasingly looking to consider lead-acid batteries as a vital energy resource. Lead-acid batteries are almost 100% recycled in a closed-loop system and represent a sustainable resource.
Battery recycling can lead to a better future for energy resources
Article by | American battery
Celebrating National Battery Day (February 18) reminds industries and consumers of the number of batteries we depend on daily, as well as our responsibility to recycle them properly. Various commercial sectors and local and federal government agencies are increasingly looking to consider lead-acid batteries as a vital energy resource. Lead-acid batteries are nearly 100% recycled in a closed-loop system and are a sustainable resource that's good for the environment.
Continuing this closed loop is an essential part of the manufacturing process. So, in compliance with the NBD, people can contribute to a better future by collecting their old or used batteries and recycling them properly. Organizations like www.call2recycle.org, a national non-profit organization, are dedicated to helping consumers identify different types of batteries and locate local recycling centers and disposal options. This nationwide effort is also designed to discourage the improper disposal of batteries in landfills, which can lead to chemical and fire hazards and potential injury to workers.
National and local economic contributions
In addition to being a sustainable and recyclable power source, batteries also provide more than 90% of the emergency power required for 24/7 localized emergency recovery systems that protect lives, investments and data in case of emergency. In the transportation and motive power sectors, 12V lead-acid batteries are expected to grow by more than 6% in the automotive market alone between 2015 and 2030, bringing the market value to $31.9 billion.
In the United States, lead-acid batteries have a $26.3 billion impact on economies that affect local suppliers, worker expenses, transportation, and distribution networks. This impact provides an estimated annual payroll of $1.7 billion, supporting the battery industry which employs nearly 25,000 workers.
FUTURE IMPACT
As batteries increase in use and popularity, manufacturers are looking for ways to improve their efficiency. For example, flooded lead-acid (FLA) batteries are still widely used, despite their technology being over 150 years old. To better power modern equipment, battery manufacturers continue to make product improvements, such as the development of more efficient positive electrodes using tetrabasic lead sulfate crystals that create a very uniform pattern. This model increases initial capacity, provides a faster cycle to maximum capacity, and improves cycle life. Advancements have also been made in maintenance-free Absorbed Glass Matt (AGM) batteries, including the prevention of positive electrode corrosion and the use of carbon-reinforced negative active materials. These have improved the charge acceptance of the AGM battery in part-state-of-charge applications and have helped increase life over previous designs.
Although lithium-ion batteries aren't new to mobile devices and computers, their use in electric vehicles, bicycles, and industrial applications continues to grow. New designs allow them to have an increased life of 2,000 to 5,000 cycles, and they can be discharged beyond 50% DOD without reducing life. The latest designs also feature an integrated battery management system (BMS), eliminating the need for additional electronics or special chargers in industrial applications.
do your part
Collect old batteries and locate a local store, organization or recycling facility to take them to. It is also important to correctly identify the type of battery brought to a recycling center. Lithium-ion batteries cannot be recycled like lead-acid batteries are, and if they enter the lead-acid battery recycling facility, fires and explosions can occur. If you don't know where or how to dispose of your used batteries, visit. www.call2recycle.org to find a local drop-off point. For more information on battery recycling processes, visit the Battery Council International at www.batterycouncil.org.
The content and opinions of this article are those of the author and do not necessarily represent the views of AltEnergyMag
---
Comments (0)
This post has no comments. Be the first to leave a comment below.
---
Post a comment
You must be logged in before you can post a comment. Log in now.
featured product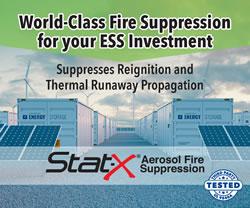 Stat-X® Condensed Aerosol Fire Suppression
Stat-X® Condensed Aerosol Fire Suppression is a solution for Energy Storage System (ESS) and Battery Energy Storage System (BESS) applications. This includes in-building, containerized and cabinet applications. The Stat-X product has been tested for its effectiveness in extinguishing Li-ion battery fires. Agent Stat-X has been found to be successful in extinguishing single and dual cell battery fires. These tests were carried out in parallel with an extensive program of battery fire tests. DNV GL Energy has tested and validated the effectiveness of Stat-X Aerosol Agent on cell-level Li-ion battery fires.