More than 800,000 Michigan residents are without power, after thunderstorms and heavy rain hit the state and triggered flash flood warnings.
Consumers Energy, a utility that provides natural gas and electricity to nearly 7 million of Michigan's 10 million people, told local station WOOD-TV that more than 300,000 of their residential and business customers had lost power between Wednesday and Thursday.
The utility told the outlet that power lines were downed across the state Tuesday night during storms, with several Michigan residences expected to be without power through Saturday or Sunday.
Consumer spokesman Brian Wheeler told WOOD-TV that the restoration of power in some areas may take place earlier than some of the suggested showings, as he revealed that these were not hours fixed.
"What usually happens at the start of a storm like this, most of the times are auto-generated, and then when we start assessing the damage and making our plans for restoration work, that's when there you see some of the changes," Wheeler mentioned.
Some Michigan homes and businesses regained power Thursday morning as an outage map provided by the utility as of 8:13 a.m. local time showed 248,029 customers were affected.
The map, provided below, shows large areas in red and orange, with the former equating to more than 1,000 affected customers and the latter between 201 and 1,000.
Meanwhile, DTE Energy, an electric utility company in Detroit, reported more than 564,000 of its customers were without power as of 8:02 a.m. Thursday, bringing the total in the state to more than 800,000.
The DTE Energy map, provided below, also shows large areas in red and orange, with the electric utility company ranking the former as more than 2,501 affected customers and the latter between 1,501 and 2,500.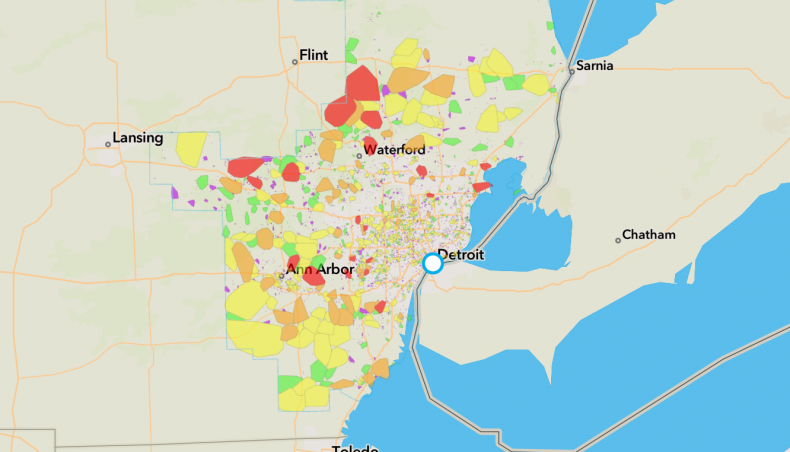 Following severe weather in Michigan from Tuesday through Wednesday morning, a string of thunderstorms hit the state again Thursday morning, bringing heavy rain to several areas.
The National Weather Service (NWS) has issued flash flood warnings for several parts of Metro Detroit and several roads have been closed or restricted due to flooding.
The agency also issued a warning of further thunderstorms throughout Thursday, tweeting, "Warm and humid conditions will again exist today. Afternoon heat indices are well into the 90s.
"The environment will again bring the possibility of showers and thunderstorms. Strong to severe thunderstorms are possible, greatest potential late tonight and overnight."
Michigan wasn't the only state affected by power outages this week, as more than 300,000 people in Wisconsin and Illinois were left without power after storms hit the Midwest on Tuesday.
There has also been flooding in Arizona and Iowa over the past week as several parts of the United States have been hit by storms.
The severe weather currently affecting Michigan comes as Florida and other southern parts of the country brace for Tropical Storm Fred, which is expected to make landfall in the United States on Friday.
Newsweek has contacted Consumers Energy and DTE Energy for comment.